The Dazzling Impact of ERP solutions on SMEs
In an era of massive globalization and digitalization, operating a business becomes more complex and complicated. In particular, SMEs may face greater difficulties because of limitations in budget, or face other structural boundaries. To maintain a cohesive operational structure, adopting an efficient and cost-effective software is the standard – a basic yet essential step to establish a strong foundation for your company.
While there is a variety of options in the market, choosing the right ERP requires the consideration of multiple factors. One significant factor would be whether your software is operated based on local or cloud hosting. As compared to the traditional local server, a cloud-hosted ERP may be more beneficial in its flexibility and adaptability to the ever-changing technological and business climate. It also has a lower cost of implementation – and subsequent maintenance fees –, as it is also included in the licensing fee.
Here is a quick overview of the different types of ERP systems:
Price and Costs
Dependence on Vendor
Opacity
Integration
Appearance and Performance



ODES ERP
A cheaper option with less implementation costs
Less reliant on vendor with a bigger, open and dynamic community that is able to concurrently analyze the software.
Open-source ERP abides by open standards, so data is highly interoperable. 
Can be easily and smoothly integrated with other third-party applications – easily customizable to your preferences.
ODES, in particular, is browser-based and thus more responsive. The database is operated via SQL, which allows data to be processed faster. It has a modern interface with a clean UI and simple navigation functions. The dashboard also has pivot tables and draggable cards. 

MS Dynamics NAV
More pricey with an established, large-scale system
Very reliant – the software is determined by a single vendor. Once it is integrated into your organization's operational structure, it will be difficult and expensive to change your software.
Closed-source ERP is inaccessible to the public, so users cannot figure out bug fixes on their own. 
Subject to available third-party software already within the system.
With proprietary software, it creates a smooth and functional design, though performance may be compromised. 

Formerly known as Navision, Microsoft Dynamics NAV is a member of the Microsoft Dynamics family that provides ERP software. For an extra fee, this software can be cloud-hosted in Microsoft Azure Cloud. There are two licenses available – perpetual license, and subscription license to an external service provider.
In this comparison, we have decided to analyse the Extended Pack in Microsoft Dynamics NAV 2016. The other version is the Starter Pack – comprising basic features in finance, professional services and distribution. The Extended Pack has additional features in manufacturing and warehouse management as well.
On-Demand Enterprise Solution (ODES) possess different modules which make up the structure of enterprise software. Each module covers a specific business function – which means each module is installed when needed. For example, ODES has CRM, Marketing Automation, Human Resources modules, which can be customized to fit different industrial needs such as in Healthcare, Manufacturing, Energy Management, and more. With ODES, we suggest that users start small – adding modules to your system when you need it. 
ODES can be installed on-premises and in the cloud.
A Comparison of Software Features
Sales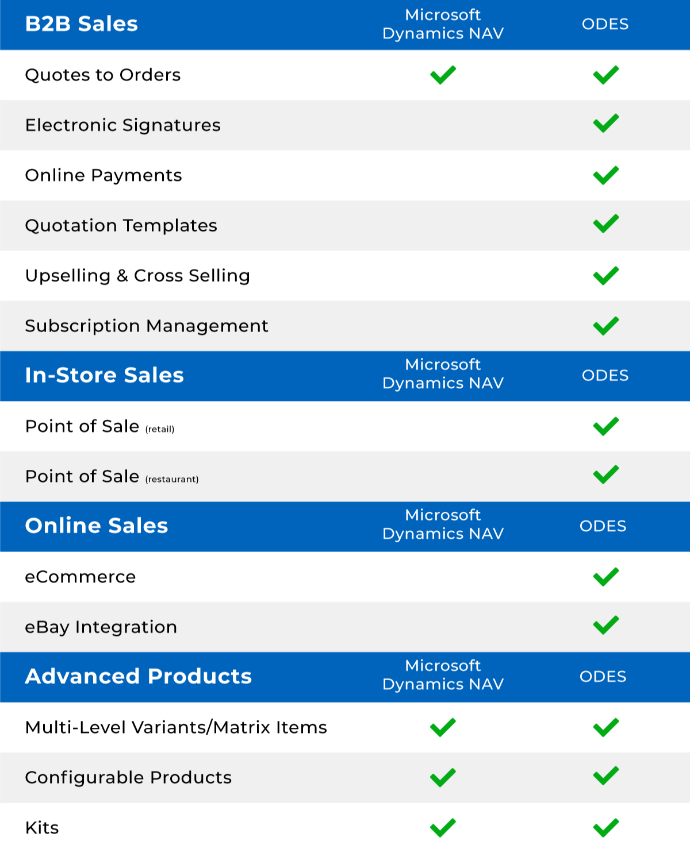 CRM (Customer Relationship Management)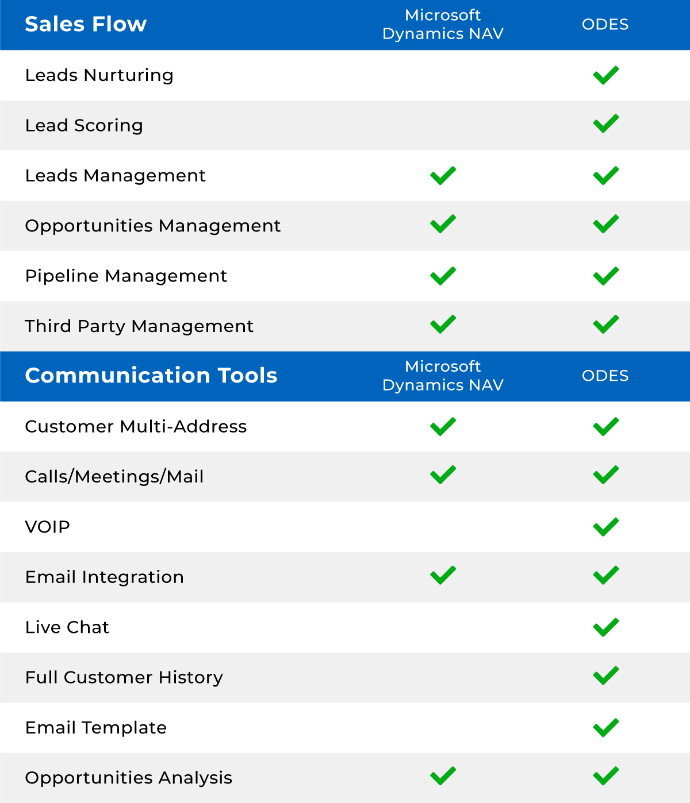 Accounting & Finance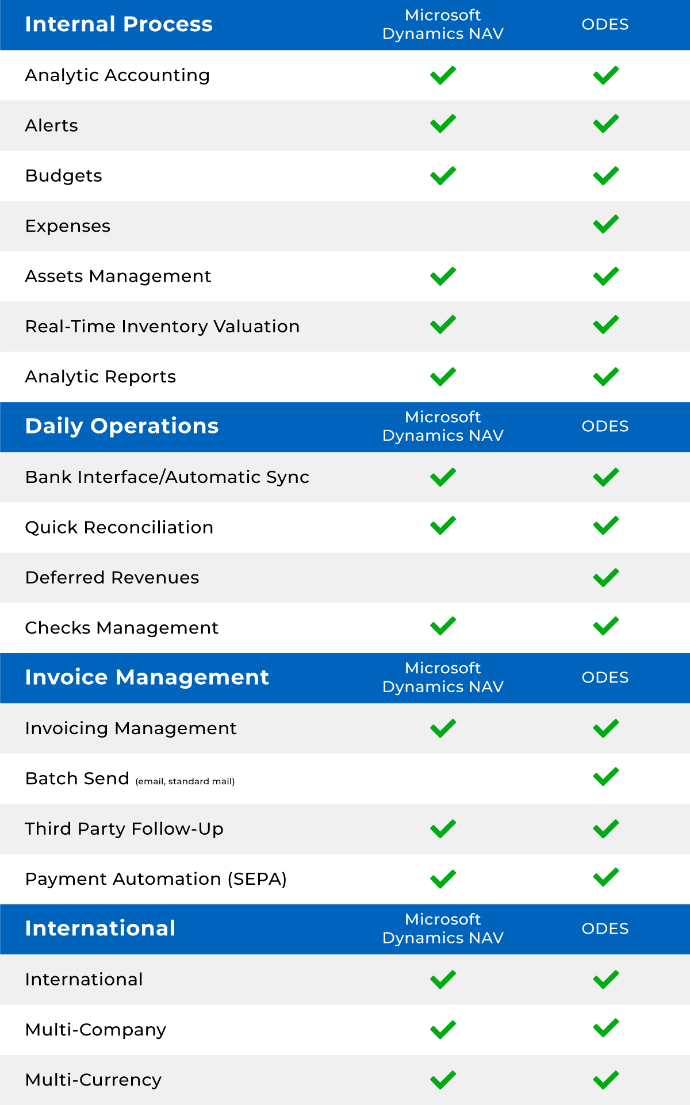 Marketing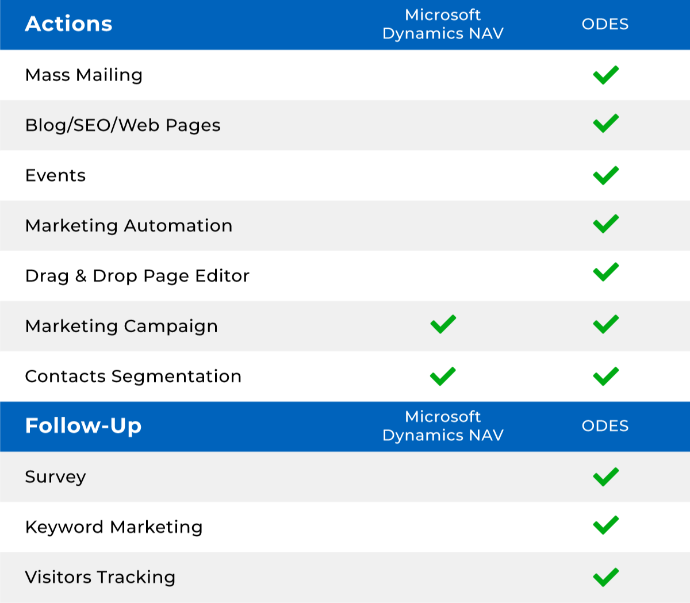 Warehouse Management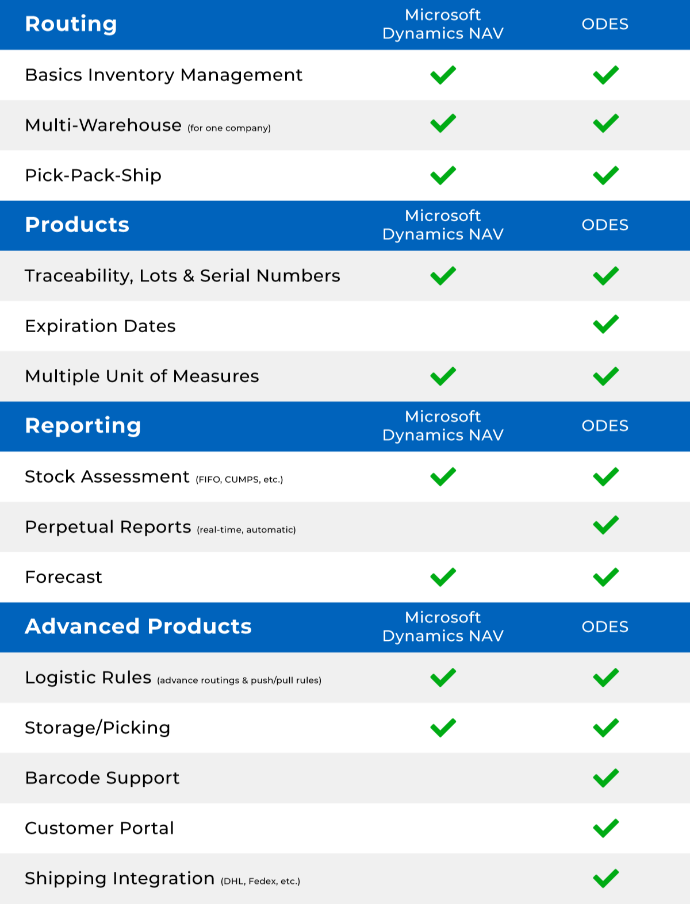 Manufacturing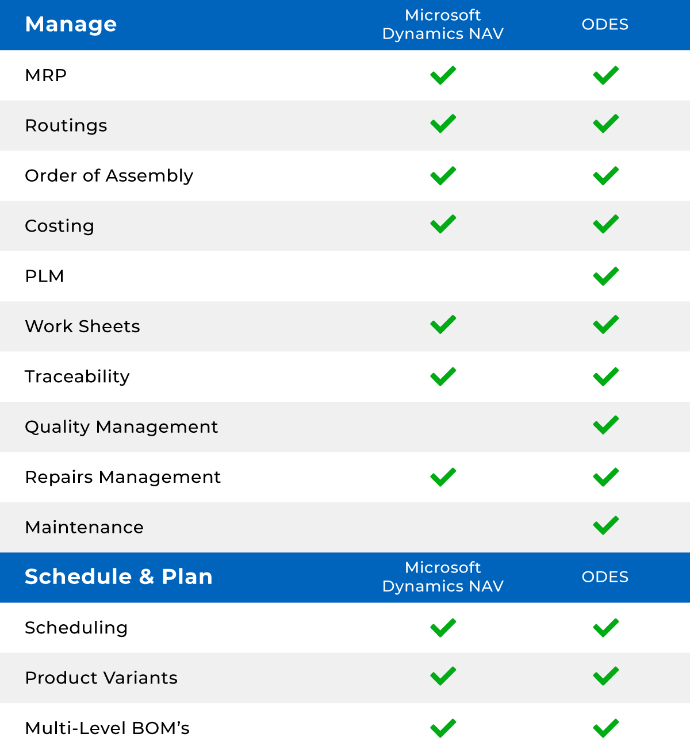 Purchase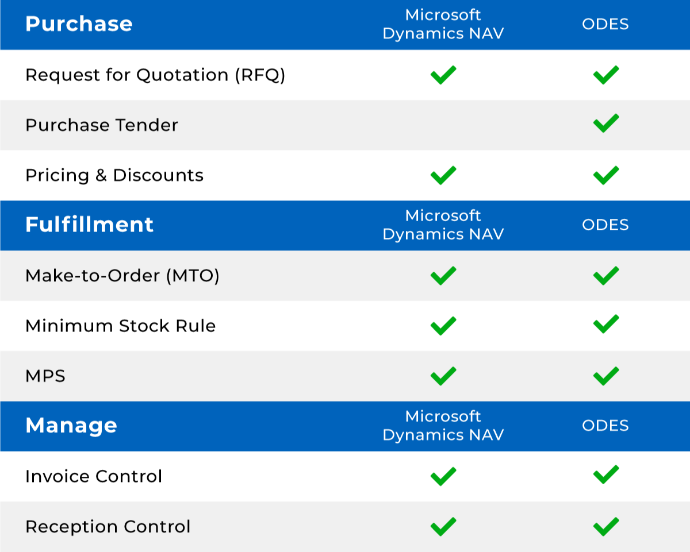 Services & Projects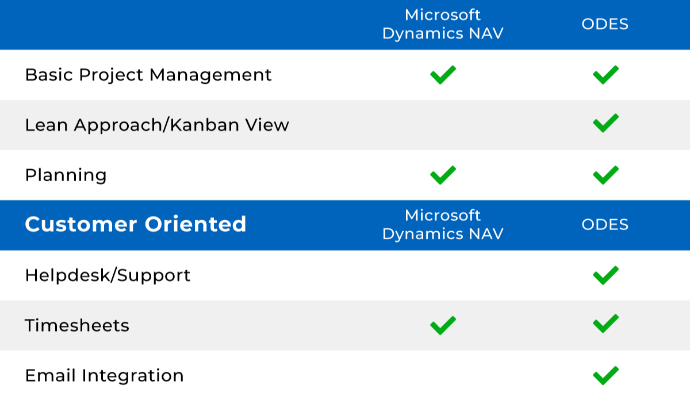 Human Resources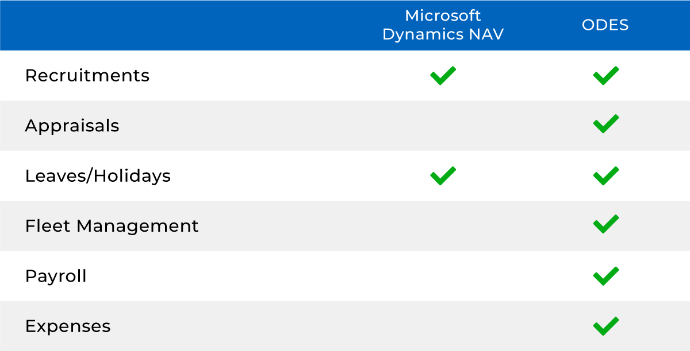 Usability & Productivity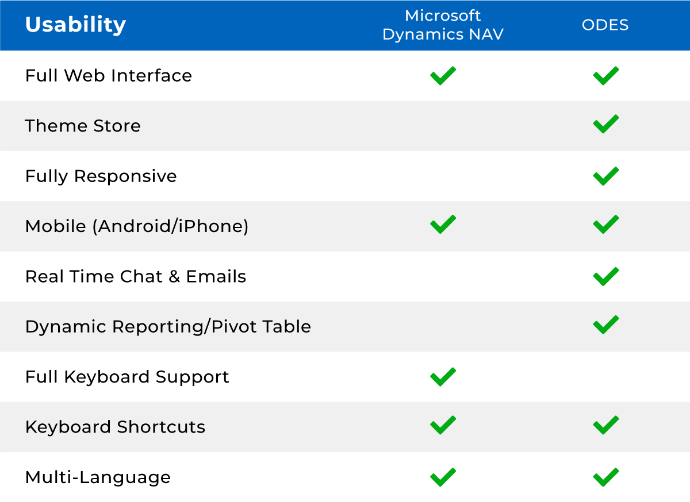 Microsoft Dynamics software is implemented by a local partner. ODES implementations are directly provided by the vendor.
The implementation cost of Microsoft Dynamics is decided on the case by case basis. For ODES, while each project may differ in cost, we do provide fixed packages as well. 
Adopting the right software for your company will be daunting at first. We recommend that you start small, and gradually add more modules to your system with deeper understanding and greater awareness of how your company works and what it needs. Especially if your company is still growing and expanding, the best option is to find a flexible and modular option that provides greater freedom and efficiency, enabling your business to adapt quickly yet effectively when the time is right.
Businesses are always advocating for long term success. In this case, it is crucial to reorient your plans to understand the different facets of the software, adapting to your long term needs. Finding a software to suit your business at its present operational status is just the bare minimum – what is more important is that it will remain relevant and useful even in the future. 
Get in touch with us for more details.