ODES VS SAP Business One.
A comprehensive comparison of ERP Software
Deciding which software should be yours
Picking the right software can seem like an insurmountable task – there are just so many factors to consider. Not only do you have to pay exorbitant amounts of money to set up your software, but you also have to consider the additional cost of software licensing and consulting fees. Then, there's also the compatibility, feasibility, functionality and effectiveness of the software (and the list goes on!) – factors that are difficult to ascertain without proper examination and evaluation. Whether you are starting a new business or outgrowing your current software, there is an undeniable pressure to find a system that fits your current organizational structure perfectly – ensuring that the money is well spent. 
Regardless of the abundance of information available, there are bound to be factors that are overlooked. Moreover, some insights may only surface upon implementation or using the software after a while, affecting your processes. Software providers often reveal vital details after many stages of verification and qualification, and this time-consuming process can impede your attempts to establish a software quickly and efficiently. Hence, it is imperative that you thoroughly understand your needs – and articulate them clearly to your software provider – such that no roadblocks will occur during implementation, or even months down the road after implementation.


Gearing towards a Cloud-based system
Software as a service (SaaS) model has gain in popularity as a scalable and cost-effective alternative. Multiple significant software providers in the industry have been integrating this SaaS model ¬– incorporating cloud-hosted versions with the originally on-premises products. With data easily processed without reliance on a hardware network, but with a secure off-site server, you can greatly reduce costs of implementation. A cloud solution is often viewed more favorably for small and medium enterprises, as well as those with less capital.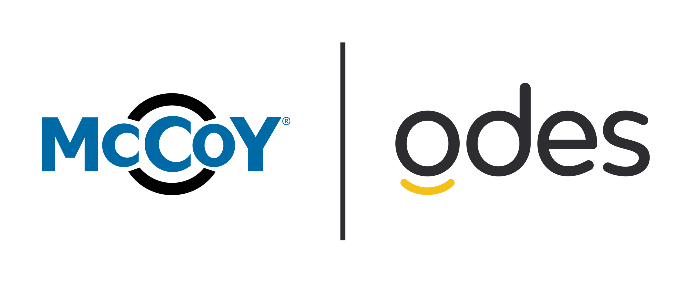 On-Demand Enterprise Solution (ODES) is an open-source software that possess different modules which make up the structure of enterprise software. Each module covers a specific business function – which means each module is only purchased when needed. For example, ODES has CRM, Marketing Automation, Human Resources modules, which can be customized to fit different industrial needs such as in Healthcare, Manufacturing, Retail, and more. ODES can be installed on-premises and in the cloud.




The departure of Xerox marked the genesis of SAP in 1972. SAP – an esteemed supplier of enterprise software – creates smart solutions befitting large enterprises. In 2002, SAP purchased and established SAP Business One as an affordable, low-cost ERP – composed for easier implementation with minimal customization.


SAP is often geared towards larger enterprises.
A Comparison of Software Features
Inventory Management

Supply Chain Management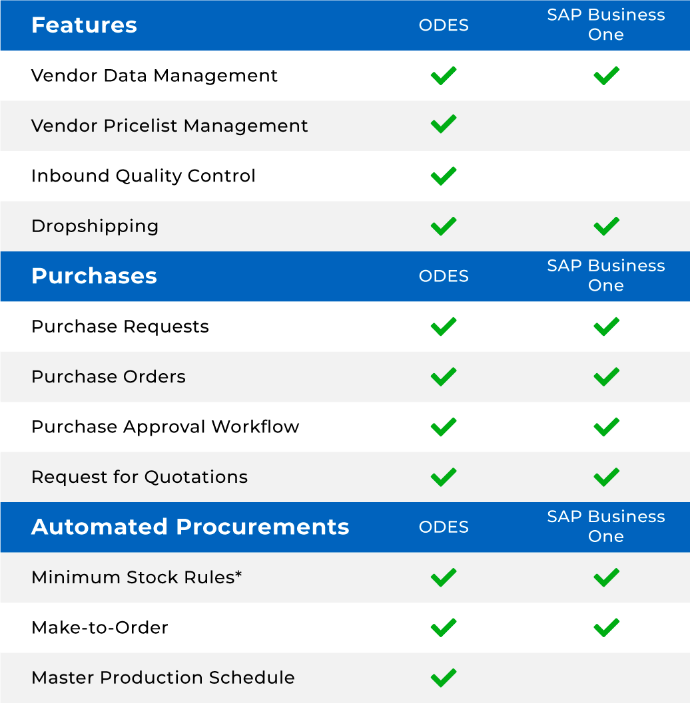 Manufacturing
Maintenance 
QMS (Quality Management System)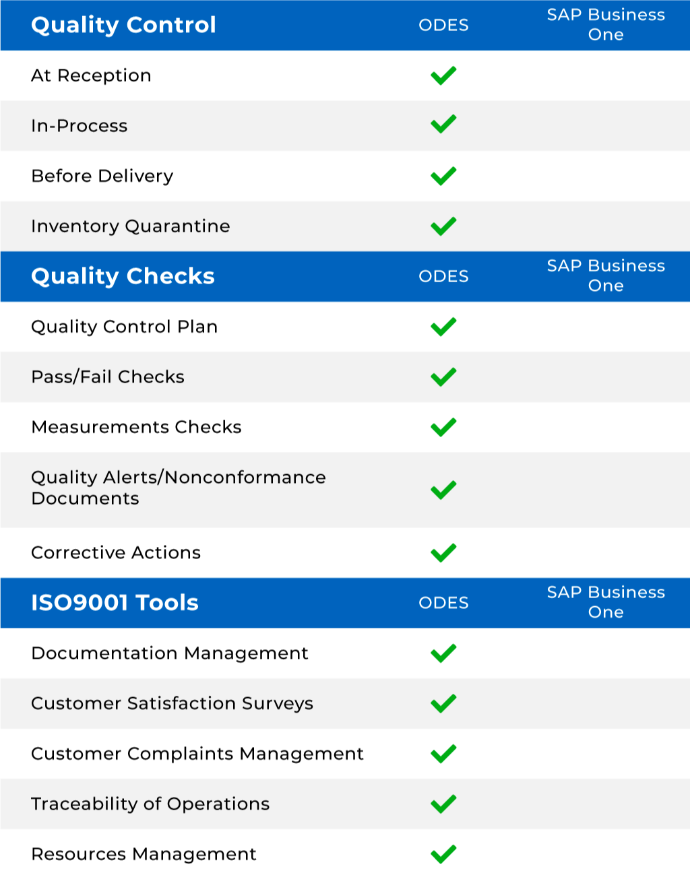 PLM (Product Lifecycle Management)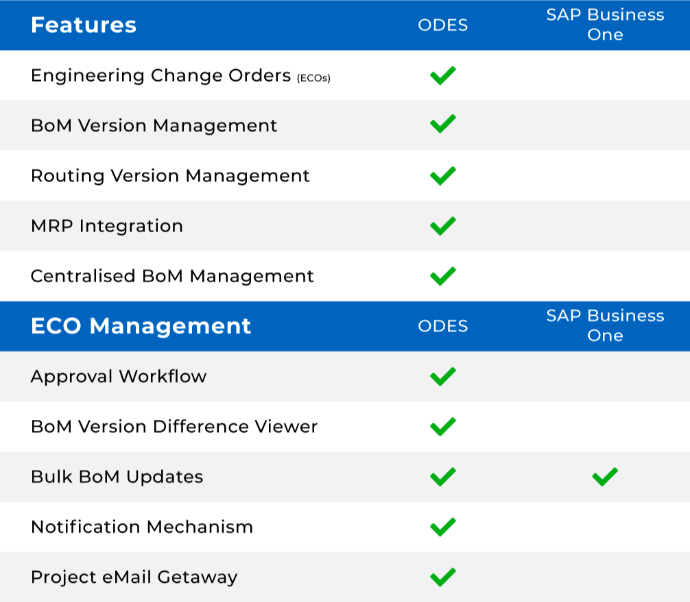 Aside from the factors mentioned earlier, usability is also an important factor to consider when subscribing to an ERP system. Although it seems insignificant, having an accessible and easy-to-use user interface can affect the efficiency of employees, the implementation process, and even reduce the costs incurred from troubleshooting. If a user interface is difficult to navigate, employees may have to spend an unnecessary amount of time learning and troubleshooting all at once. Hence, it is important to ensure that the user interface is optimally tailored to your working style – whether you are in the healthcare industry, manufacturing industry, and retail industry (etc.). 
Here are some screenshots to illustrate the differences between the user interface of SAP and ODES. 
ODES BOM Interface
ODES Master Production Schedule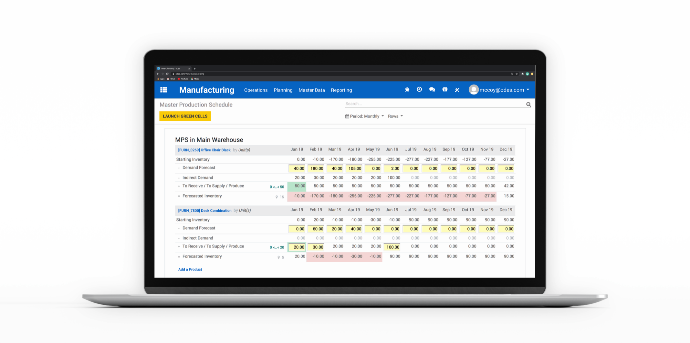 SAP BOM Interface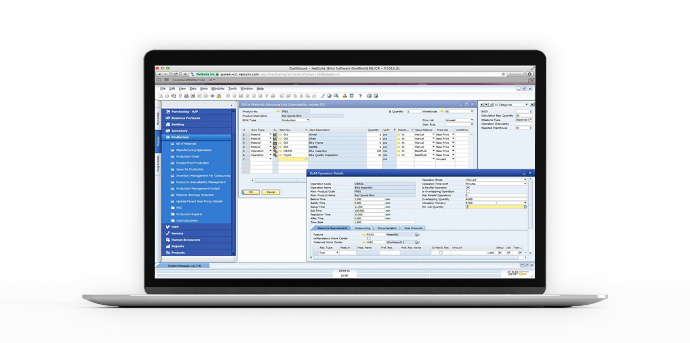 SAP Product Master Data Interface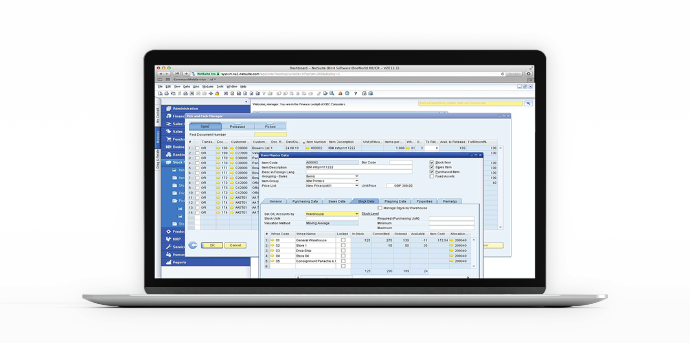 Usability & Productivity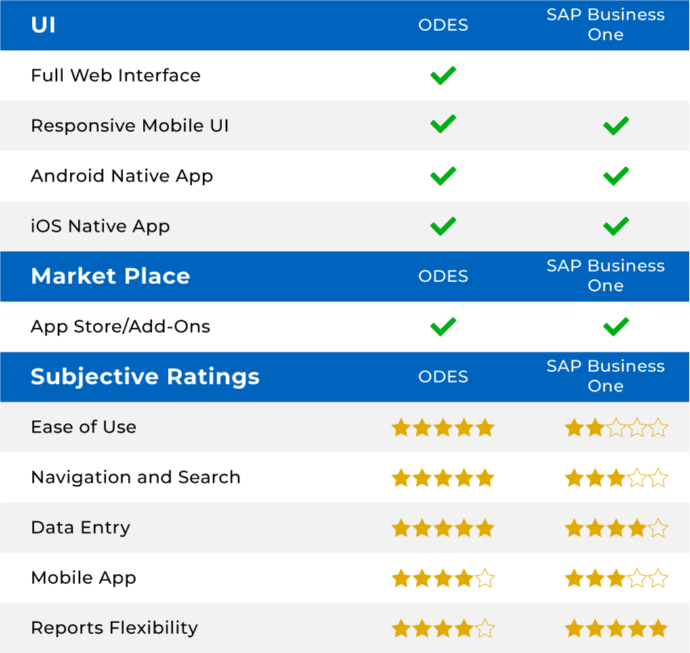 Conclusion
There is always new technology to be integrated with your system given the fast advancement of technology, together with the immense growth of the software industry. No matter which ERP system you choose, it is ultimately important for you to work closely with your software provider to meet your needs. One must always be cognizant of your organizational needs and remain updated on the latest developments of the software, before making your decision.
 Get a FREE Consultancy today!